DUCK SOUP
'Live' at the Gemini Party - June 18, 1988 (First Set)
The last of our mid-year 'Gemini' parties at our Sydney home in West Ryde was held on June 18th, 1988 and featured band on the day was 'Duck Soup'.
This masterful quartet of musical genii and lunatics was made up of: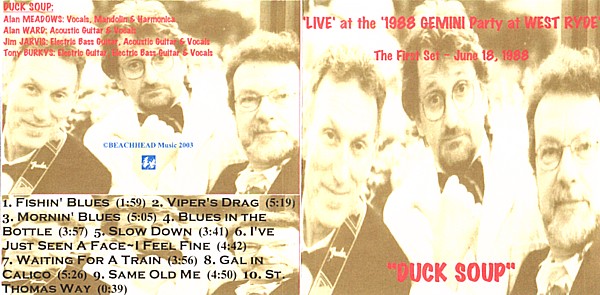 | | |
| --- | --- |
| Alan Meadows | Mandolin, harmonica & vocals |
| Alan Ward | Guitar & vocals |
| Tony Burkys | Electric lead guitar & vocals |
| Jim Jarvis | Electric bass guitar, acoustic guitar & vocals |

This particular afternnoon we had intended to record the whole thing but, alas, only managed to get the first and last sets which have since been placed onto two CDs. The set list for both is mostly the same, they were a 'new' band and it was a bloody long party but hopefully you'll enjoy it as much we did on the day!
---
Links

Page
---
---
free hit counter