'Ask Any Woman...': The BLUES COWGIRLS (2004)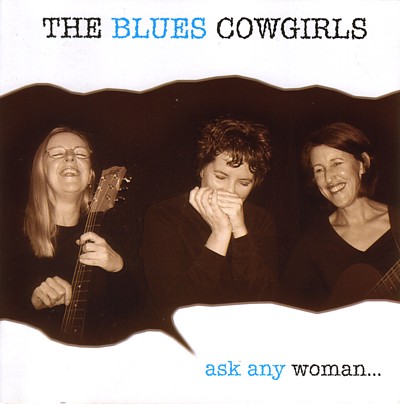 I'd first heard of the 'Cowgirls' some two years or more ago when I was performing with BEACHHEAD at the inaugural Canberra Blues 'n' Rock Festival in March 2003.
On that particular occasion after we'd finished our set I managed to catch both Judi and Juanita (Pearce & Cucinotta respectively) performing with their other band, The Business. Unfortunately, I was unable to get to any of the venues within the festival when the 'Cowgirls' were actually performing.
Their first CD, Ask Any Woman, is to say the least, bloody great!
It opens with the old J.J. Cale gem, Don't Cry Sister (from his 1979 release, Five) with DJ Gosper taking the lead vocal. This is the deeper of the three voices and belongs to a pretty fair harmonica player as well.
Third track in is the 'title' - Judi Pearce' Ask Any Woman starts off with a beautifully understated bass line courtesy of Ernie Van Veen (who also contributes 'lead' guitar to all but one track). The sentiment behind the lyrics is easily understood!
Particularly so if you are one of the young women who get that shit every time they dare to go out in public by themself.
The Juanita Cucinotta penned (and sung) Fall Down is a beautiful song, a plaintiff cry for help and understanding from someone who is searching for a way out of the mongrel hand that life has been dealing her!
For me personally, the two standouts on the album are Juanita singing the John Prine penned classic, Angel From Montgomery. A beautiful workout on a song that I have never before, in my opinion, heard anyone sing worth a damn other than Bonnie Raitt on her Streetlights album (from 1974). To me, it shows just how much Juanita's vocals have developed since I first heard her in early 1994 when she was away on tour with BEACHHEAD'S BLUES during our first Victorian tour and she sat in to help fill out the night during an overly long gig at the Royal Victoria Hotel in Wangaratta.
I seem to recall her singing Route 66 on that particular occasion and I was truly thankful she was there to help out!
The other is the trio working out on the beautiful Anthony Newley /Leslie Bricusse penned Feeling Good ( from their hit 'Broadway' musical, The Roar of the Greasepaint - The Smell of the Crowd from around 1965). It has always been one of my favourites! And this an excellent version - Hands Down!
One of the few other groups that I have heard attempt it was TRAFFIC on their Last Exit album (1969) - that was a fairly dismal 'live' effort!
Many of the other tunes on here I only know with a passing interest, a couple of exceptions being Operator (previously done by Manhattan Transfer) and, strangely enough, Do the Mudstep (from the Nevva Binta Memphis Mudsteppers) written by Damien Coen. Juanita has since informed me that it is their take on the Johnson Stompers version of the song.
I am glad that I now have this little gem in my own collection and would suggest that it is worthy of inclusion in any.
As with any album there are those tracks that I am not as taken with as I am with some others. However, there is nothing on here that I do NOT like!
You have three wonderful voices working solo and in harmony, some excellent harmonica, guitar, piano accordion and a touch of kazoo. You have a collection of tunes that you may, or may not have heard before, but will certainly want to hear again and again. I know that I do!
And every time I do there is something new for my ears!

---
Copies may still be had, I believe, by contacting the BLUES COWGIRLS direct via the links on their Website.

Website: http://www.canberrarootsmusic.com/bluescowgirls/default.cfm
---
Back

Home
---
Free Hit Counter