'GUITAR HEROES': Steve FLACK (2005)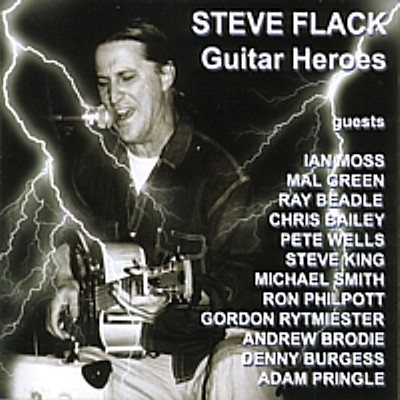 Until this recording arrived in the mail for me from Full House Records C.E.O. Vic Mally just prior to my leaving for Sydney last week, I have to admit never having heard of Steve Flack.
It is quite obvious the sort of esteem he is held in as a guitarist by the 'guests' listed on the cover. At least one that I have worked with (Chris Bailey), at least two others I know personally and the remainder held in pretty fair esteem by performers and the music buying public in general. So I was eager to have a listen to what I assume is a 'first release' by Steve.
And so to the album:

The Jimi Hendrix classic And The Wind Cries Mary is the opener and features the aforementioned Chris Bailey on bass and Mal Green on drums.
Chris was the 'original' bassist in famed Aussie rock band 'The Angels' (known as 'Angel City' in the U.S.) and is still bassist in one of Rio de Janiero's favourite party bands, 'GANGgajang'. Mal was a longtime member of famed New Zealand export, 'Split Enz'. They are absolutely rock solid and tie the tune to the ground giving Steve the space he needs.
Next up is an acoustic-sounding reading of the Robert Johnson chestnut Crossroads featuring Steve on 'slide' & 'Dobro' and the formidable Ray Beadle on second guitar. On all sides the guitar playing is excellent. Ray has toured in the U.S. on a number of occasions.
Now we come to what I assume is a Steve Flack 'original' the instrumental When Duane Began To Slide. Some really nice drumming from Andrew Brodie and sweet bass from Michael Smith, neither of whom I've heard in the past. This is a great tribute to the the 'late' Duane Allman who was sideman of choice for many of the greats including 'King' Curtis before his death. I can recall Toy Caldwell of the Marshall Tucker Band in Guitar Player Magazine many years ago saying that the reason he played pedal steel was that he thought nobody could ever play 'slide' as good as Duane. Unfortunately, Toy has now joined the ranks of 'heavenly guitarists' himself!
Maybe I'm A Leo is from Deep Purple's classic MACHINE HEAD album of 1972 and gets a fair workout. Great solos from both Steve and Adam Pringle. The thing that intrigued me here is the use of rhythm section Ron Philpott (bass) and Gordon Rytmeister (drums). Both of whom I know and am more used to seeing in a modern jazz setting.
Time for the Blind Willie McTell classic done by damn near everyone (myself included) - Statesboro Blues! Opens up sounding very Allman Brothers with Steve's slide digging deep into Duane's territory. Second solo is from former Cold Chisel master guitarist, Ian Moss and is a killer. Once again Ron and Gordon perform rhythm section duties and you realise just how solid they are!
Next up is Mr. Flack's rendition of Melbourne guitarist (and close friend) Geoff Achison's Don't Play Guitar Boy. A song of which I have never been 'over-fond' but very much prefer when sung by Geoff himself.
I have always loved CREAM however I had never been partial to their Sunshine Of Your Love by anyone until I heard Ella Fitzgerald doing it 'live' on the 1968 release 'Ella FITZGERALD: Sunshine of Your Love - 'Live' at the Fairmont Hotel CA'. The horn section absolutely nails the opening (normally) guitar phrase and Ella just sings the shit out of it! What Steve does here is admirable but just can't compare.
Ray (Beadle) joins Steve again - this time for a great rendition of the 'Little Walter' Jacobs classic Mean Old World. This is listed as being written by many people but the lyrics here are those as used by 'Little Walter' and Eric Clapton!
As with the first track, Castle Made Of Sand is a Hendrix classic and once again Steve is joined by Chris Bailey and Mal Green. Once again, a pretty fair reading and some good guitar work!
Sophisticated Cissy Strut is a nice little instrumental utilising Ron & Gordon once again as rhythm section and featuring some bloody nice guitar work from Steve plus a nice little solo break from Ron on bass. No idea where this one originates, except to say it seems to be of New Orleans origin.
Back with Chris Bailey & Mal Green and a return to 'heavy rock' mode with What Is And What Should Never Be from Led Zeppelin II. A good rendition with some nice guitar and a pretty fair vocal.
Into a gentler mood with Ron Philpott & Gordon Rytmeister and a sweet instrumental version of Eric Clapton's Wonderful Tonight. Excellent!
The next two tracks feature former 'Rose Tattoo' guitarist, Pete Wells on slide. The first of these is Eddie Boyd's Third Degree, a killer version of which was done by Johnny Winter on his Alligator Records release of the same name some years back. Andrew Brodie on drums and Steve King on bass.
The second is an arse-kicking 'electric' version of Crossroads with Michael Smith on bass for only the second time on the album. Great slide from Pete on both tracks and vey reminiscent of Elmore James at his best!
This time we have Ian Moss & Steve King both making their second appearances and a fine version of Elmore's Shake Your Moneymaker with Steve playing some killer 'slide'!

Overall, this a very good first release for a guitarist who quite obviously knows his stuff. If I have one criticism to make, it would be that some tracks could have featured a stronger vocal from the point of view of some of the phrasing. Having said that, the efforts on tracks such as Maybe I'm A Leo (originally sung by Ian Gillan) and What Is And What Should Never Be (originally the one and only Robert Plant) were tackled with some deal of authority.
This is an album worth having in your collection. More particularly, if you like stylish and tasty guitar playing.

---
Copies can be had by contacting Full House Records.
PO Box 168
Menai NSW 2234
Australia

Website: http://www.fullhouserecords.net
---
Back

Home
---
Free Hit Counter