'HEAT OF THE MOMENT': Henry CORREY & the CORREYDORS (2003)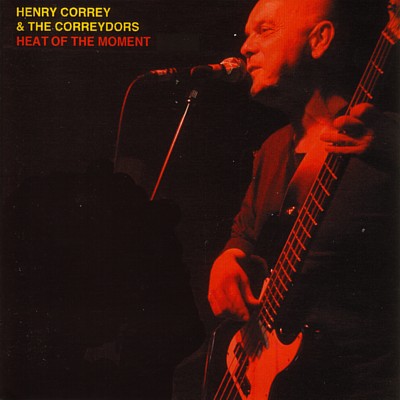 A year or two back, an old friend that I hadn't seen or heard from in a very long time contacted me and said he worked with a young bloke who was "a hot little 'blues' guitarist" - George Babich. At that stage I had neither heard, nor heard of George.
Sometime later I became the 'Blues Board' moderator over at Music Discussion and one of the people who joined was a bassist of many years experience, Henry Correy. Henry had played extensively in Australia, Europe and America in bands playing everything from 'funk' and 'blues' to 'heavy metal'.
These days he is the leader of, plays bass and sings with the Correydors (pronounced 'Corridors'). They have just released their album, HEAT OF THE MOMENT. It was recorded 'live' in the studio at Riverwood in Sydney in late 2003.
Your correspondent was invited, along with a number of others, but unfortunately never made it on the night.
What I didn't know until I received the CD in the mail was that the previously mentioned George was actually one of the two guitarists in the band.
I put the disc into the player and from the first note felt right at home.
If you buy this album, or go to see this band expecting anything new and innovative you'll be disappointed. What you do get are four people who cook like crazy when they play together and that I'd go and see anytime I got the chance.
To quote a fairly obscure John Lee Hooker tune, "Pot's On, Gas On High!"
All tracks have been written by the band members and here are some of MY favourites:

Double Dealin' Mama (Correy) a 'jump' blues shuffle that would have anyone so inclined up on the dance floor in an instant.
Cheatin' (Correy) is highly reminiscent of an early Peter Green composition, Rollin' Man with alternating rhumba and swing sections.
Smokin' (Babich) is a short, sharp instrumental that showcases the differing sounds of both guitarists.
Too Many Lonely Days (Correy) is a blues ballad given an extra sense melancholy by the addition of the beautiful piano accordion of Stefan Sernek from Psycho Zydeco. The solos from both guitarists (George, then Allan) quite literally sing!
Would I Lie To You (Correy) initially makes me think of the Willie Dixon/James Ingram penned, Let Me Love You Baby that has been a mainstay of many bands since Buddy Guy did it back in 1960 and Stevie Ray Vaughan introduced it to a new generation of blues lovers in the eighties.
Drinkin' Woman Blues (Babich) is as good a slow twelve as you'll ever hear. The initial solo from Vander Linden is nice. But, for me, Babich' solo is it as it soars into the heavens building all the time 'til it takes the tune out.
Before Tonight (Correy) is a rhumba and brings back memories of many Bo Diddley tunes including his theme.
Talk Too Much (Correy) is a rocking little blues shuffle that kicks arse from the outset.
Heat of the Moment (Correy), the title track, is probably my most favoured with its almost country-style intro that brings back memories of such great Aussie bands as Dingoes.

The other tracks That Can't Be (Vander Linden/Correy), Early Morning Hours (Correy), The Silence Says It All (Correy), Too Little, Too Late (Correy), Isn't It Strange (Correy) and Hopes & Dreams (Clarke) all go toward making this an album you should have in your collection of Aussie blues.
That old mate of mine wasn't kidding about Smokin' George Babich. He's a great player! But so is Allan Vander Linden and the two compliment each other as well as any I've seen or heard in a 'two guitar' line-up. No heroes here, just bloody good playing!
As for the rhythm section - tight as………. Henry Correy, as previously stated, has been around for some thirty years and his experience shows! I have to be honest and say that I have no idea who Peter Clarke is or how long he has been around doing what he does*. But I would hazard a guess that it's been a bloody long time because he does it very well!
---
*I have since discovered that, while not knowing Peter personally, I knew of him as the drummer in band whose demo tape I've for had for many years - SMOKESTACK LIGHTNING. A band which also fetured former BEACHHEAD'S BLUES alumni Gary KOHRMANN (bass), Luke DAVIES (harmonica) and Peter ARNDELL (guitar).
---
Copies can be had by contacting Henry at henryathenrycorrey.com (manually substiute @ for 'at') for details.
It will cost you $22.00 (in Australian Dollars) inclusive of P&H.

Website: http://www.henrycorrey.com
---
Back

Home
---
Free Hit Counter