'SHAKE A LEG': The FOREDAY RIDERS (2005)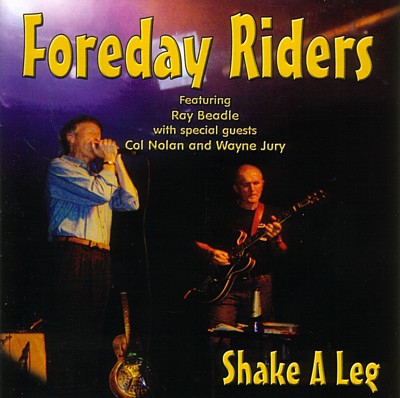 In his 'liner notes' Vic Mally laughingly comments that Ron & Jeff King "founded the band hundreds of years ago". Trust me, it feels like that!
I lived in the Western Sydney suburb of Ermington for around 25 of my first 29 years and used to frequently shop for records at a little jeweller's come record store in West Ryde and behind the counter was Jill Tweedie who had been the Riders' original vocalist and had copies of their very first recording for sale in the store. Unfortunately, I never bought the bloody thing and nowadays it is no longer available. Such is life!
I first heard the band 'live' at French's Tavern Wine Bar in Oxford Street, Darlinghurst ( a venue that BEACHHEAD would play for a relatively short residency in late-1980) around 1976/1977 and thought they were great, then got side-tracked elsewhere for a few years.
I next heard them when I started hanging with a mad mob of bastards known as 'The Block' from Ermington who were all into blues in general and the Riders in particular. This was February 1979 and they were doing both the Tuesday and Thursday evenings at the 'Three Weeds' (Rose, Shamrock & Thistle Hotel) in Rozelle.
On my first visit, Austin Harrison (Stormy Monday Blues program presenter) walked up to Ron King, unbeknownst to me, during a break and told him I was a pretty fair vocalist. Ron walked over and asked me if I'd like a sing and I jumped at the chance. From memory, I did Stormy Monday and became a regular sit-in from then on whenever I was at one of their gigs - which was damn near every one of them.
At that time the band was Ron King (harmonicas/vocals), Jeff King (guitars), Tony Pedroza (guitars/vocals), Billy Ryland (bass - from memory) and either Ernie McInerney or John Simoné (drums).
During my tenure in Balmain (1983-1986) the Riders started a long-running Friday night residency at the Cat and Fiddle Hotel in about mid-January 1984.
Previously, I had only ever owned their 'Once A Week' on vinyl, but this had disappeared with the rest of my record collection courtesy of 'friends' I had been staying with during a particularly bad couple of years where I spent my time sleeping on floors wherever anyone would have me for a time.
The next time I had a Riders' album was after Shirley and I got together in 1986 - this was their 1987 release 'Riders Digest'! Apart from that I have one recording of the band 'live-to-air' from Stormy Monday (April 25, 1988) and a taped copy of 'Playin' Up' from 1977.
As you may well imagine, my delight at receiving this latest release, 'Shake a Leg' in the mail late last week and being asked to review it is virtually unexplainable.
This is my favourite blues band period!
Vic describes the mystique of this band that quite literally only play where and when they want to and always attract a sizeable audience when they do. They don't play or sound like any other band, regardless of who is featuring on the night. They are always the RIDERS!
They are now approaching their forty year tenure. In truth, the band has only ever really been Ron & Jeff and what they inspire in everybody that plays with them at any given time as the Foreday Riders.
These are the guys who introduced me to the likes of Illinois Jacquet, Lester Young and a whole heap of other jazz players as well as many of the greatest of the blues players and some of the sweetest sounding music I have heard in my life.
The album opens with the Adolph Smith penned classic You're The One which was a hit for New Orleans vocal group The Spiders in 1954. However, this instrumental take swings like crazy and owes more to the Hank Crawford/Jimmy McGriff version from their 1989 recording 'On the Blues Side' than any other. This some of the finest of the Riders' ensemble playing I have heard!
Bourbon To Scotch (penned by guitarist Ray Beadle) kicks in with an almost 'rock' feel and then lightens up and turns into a real showcase for his vocal style. This features Jeff on 'Dobro' for the first solo and his playing is just as tasty as ever it was.
Diamond At Her Feet (McKinley 'Muddy Waters' Morganfield) is next and is the only time that Ron features on vocals on this album. This saddens me as I truly like Ron's singing. Jeff is sounding very like one of his heroes guitarist 'Pee Wee' Crayton on the first solo.
Lonnie Smith's Peepin' dates from the mid-sixties when the turban-wearing Smith, along with 'Blue' Mitchell was part of Lou Donaldson's quintet making its first appearance on the latter's 'Mr. Shing-A-Ling' release of 1967. This tune has been a Riders' staple for as long as I can remember and always brings back fond memories of Guiness soaked nights at the 'Weeds'!
Next up Ray takes the vocal reins on Peter 'Memphis Slim' Chatman's Lonesome. This rocks along in that typical Riders' fashion.
Ray also takes the vocal on the next Memphis-born left-hander Manuel 'Little Jimmy King' Gales' Baby, Baby! Sadly, Gales died of a heart attack in 2002 at age 34 and never got the wide recognition he deserved. This is a great version of his self-penned tune from his 1994 release 'Something Inside of Me' which featured both Chris Layton and Tommy Shannon from Double Trouble!
First caught sight of Wayne Jury performing in trio format with Ron & Jeff at the Hawkesbury Valley Jazz Carnivale in Richmond NSW on November 14, 2004 and what a great combination they were. This tune, Wayne's self-penned Hard Life is his first of six vocals on this album. Funky, swampy, sleazy feel and it cooks like crazy. Great vocals!
Next up and Wayne is handling the vocals again - this time on one penned by Ron & Jeff, Have You Made Up My Mind? This has the sort of quirky lyrics I have come to expect from the boys over the years and it just rolls right on along.
Now to a tune that has been part of the Riders' repertoire for a very long time and that I remember from those nights at the Weeds with 'Pedro' (Tony Pedroza) playing his '335'. This is Hollywood, a Crusaders/Jazz Crusaders tune from the early seventies, penned by their trombonist Wayne Henderson. This has been renamed Hollywood (Revisited) here - highly appropriate as it is the first time I've seen it appear on one of their recordings since the aforementioned Playin' Up from 1977 - and it is one that truly deserved to be revisited! This was one of at least two Crusaders tunes that I remember the Riders playing in those days - the other was 'Greasy Spoon'.
Next up is Albert Collins' The Lights Are On. This opens with an absolute killer guitar underscored by Ron's harmonica (as only he can do) before breaking into Ray's soulful vocal that attacks the lyrics with just the right amount of intensity. Half the battle when you're singing are phrasing & taste - young Mr. Beadle has these in spades! Great stuff!
Onto the title track and Wayne is back singing. A typical Rider Shuffle, Shake A Leg just jumps along and makes you feel good and want a beer in your hand!
Wayne still on the mic and we have the Duke Robillard/Doc Pomus penned Body & Fender Man, yet another of those blues where sexual innuendo is transferred to the panels and workings of a motor vehicle.
Johnny Shines Evening Sun and we're running at a hundred miles an hour. The dance floor is full and people are having a great time. Wayne handling the vocals, Jeff on 'Dobro' with a great slide 'solo', Ron with a rocking harp solo to finish it off!
Ain't Doing Too Bad (Don 'Deadric Malone' Robey) is next up and can be traced back to an early-eighties version by Magic Slim & the Teardrops as well as any one of about a dozen other performers including Lucky Peterson and an insanely funky version by none other than James Cotton. This version is more reminiscent of Magic Slim, but still a little like Cotton. Great vocals by Ray Beadle. Ron takes a lovely understated first solo, followed by Jeff, then Ray.
Wayne takes the set out with a Ron & Jeff penned tune that is sure to become yet another Riders' classic (if it hasn't already) Include Me Out! A fiery 'slide' solo from Ray Beadle here!
I've barely mentioned the wonderful keyboard work of Col Nolan - it's bloody marvellous!
I haven't mentioned the work from one of the tightest rhythm sections I've ever heard with the Foreday Riders - Stan 'Stanley Steamer' Mobbs (bass) and Roscoe Clark (drums). An engine room like this can only make you sound good and better!
Wayne is a great singer and a worthy addition to the line-up on here!
Ray Beadle is a guitarist and vocalist that I have to honestly say I always thought played just 'too bloody loud'! Happily, I caught he and the King Brothers at Thredbo in January 1999 in trio mode and he was playing some of the nicest guitar I had ever heard. Six years on and I have to say he is everything he should be - a great player and singer who has taken the lessons and learned them well. Catch him with his own band Ray Beadle and the Vipers and you'll see him at his best.
Ron King is the best damn 'harp' player we got here and brother, Jeff is one hell of a nice guitar player! I know there may be those who may dispute that and I don't care.
Buy this album, no matter where in the World you live and listen to some of the finest Australian 'blues' you'll ever hear!
---
Copies can be had by contacting Full House Records.
PO Box 168
Menai NSW 2234
Australia

Website: http://www.fullhouserecords.net
---
Back

Home
---
Free Hit Counter