'Possum' JEFFERY
('Little Bear' / 'Baby Bear')
November 1, 1990 - May 10, 2004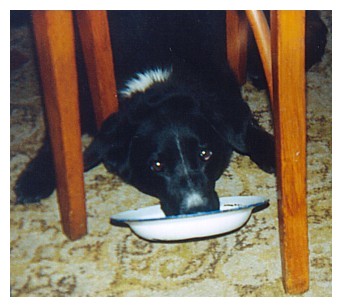 'Possum' (a beautiful Labrador/Border Collie cross) was born at Katoomba NSW in November 1990 and got her via an ad in the Blue Mountains Gazette. When we arrived at the house in Martin Street she was one of only four left from the litter and the only female left.
I looked at her and said come here my little possum and she did. That is, quite literally, how she got her 'real' name.


She spent the whole of the first night in her new home at Merriwa Street in a cardboard box on the floor next to our bed and where I could reach out and touch her. Which was just as well, because she woke up every half-hour or so wanting to go out and play. She had great fun attempting to jump over small flowers that were growing up through the lawn and not quite succeeding!

She tried to make friends with our (at that time) four cats who were all unsure as to this tiny interloper who eventually became very much a part of their lives.

Over the 13½ years she was with us she loved going away on holiday with us in the car and her last trip was to East Gippsland and Melbourne with us in March of 2003.
Goodbye our little sweetheart,
You will always be in our hearts and remembered with great love and affection!
Rod & Shirley JEFFERY
(Dad & Mum)
May 11th, 2004
---
---
Free Hit Counter