'Beau' JEFFERY
(O'Mohdra Snow Crystal)
June 6, 1990 - October 29, 2002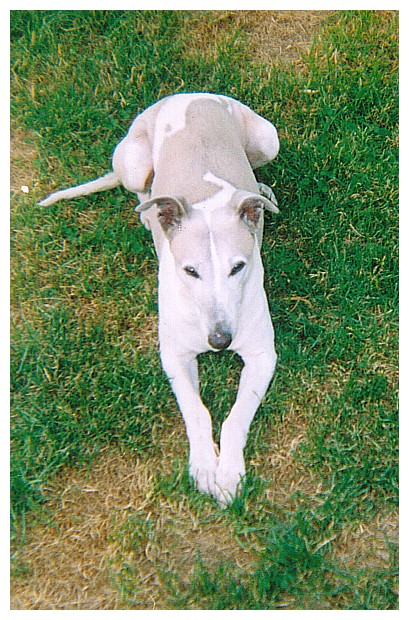 'Beau' was born at Tahmoor NSW in June 1990 and came to us in December of that year while we were living at 35 Merriwa Street, Katoomba.
Over the ensuing years he had become a dear friend and sweet companion to both myself and Shirley and to our other two dogs 'Possum' (a beautiful Labrador/Border Collie cross) and 'Mouse' (a top little dog who just decided that he wanted to be with us). All three were/are like our children and very dear to us. It probably does not need to be said that they are all much loved.
Sadly we had to have him 'put to sleep' this Tuesday past! We took him to the vet who informed us that his kidneys had packed it in and were doing nothing to remove the toxins from his poor old body anymore. This had led to him drinking vast quantities of water ( a natural reaction) and eating next to nothing. Consequently, he lost a vast amount of weight in a very short time and was almost skeletal in appearance by the time we got him to the vet.
The advice given to us was that it was a common affliction to his breed (whippet) if and when they reached his age (12Żyrs), also that there was, unfortunately, nothing to be done for him. He was also suffering cataract blindness. We decided that we could not bear for him to suffer and stayed by his side, cradling his head in our hands as he drifted off.
In recent times he and our two kittens had grown very fond of each other too and had taken to sleeping together on the setee overnight.
Goodbye dear old friend,
You will always be remembered with great love and affection!
Rod & Shirley JEFFERY
(Dad & Mum)
November 1st, 2002
---
---
Free Hit Counter