Rod 'BEACHHEAD' Jeffery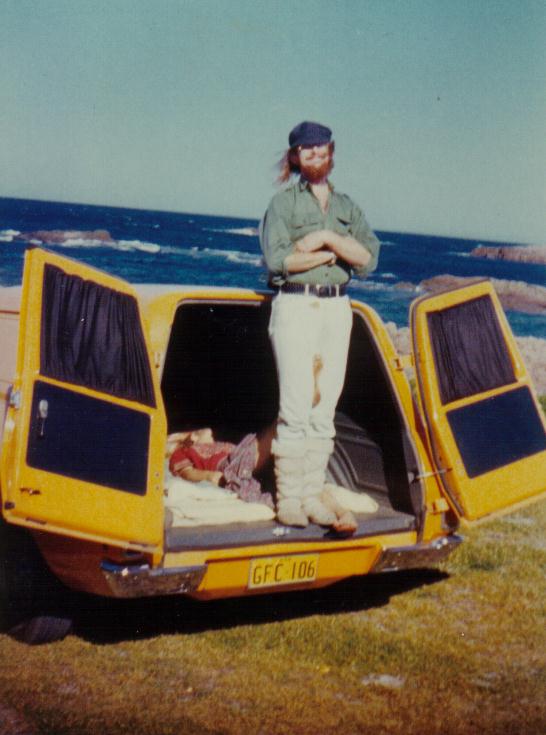 Me on the back of Ed CORNIELIUSSEN'S 'XA' Falcon Panel Van at Nelson's Bay NSW
at a little after daybreak on Easter Saturday 1971. The girl is Ann WOJAK.
---
I was born at Guildford NSW (Australia) on June 14th, 1952 and christened Rodney Albert James JEFFERY.
My parents were first cousins (their fathers were brothers) Donald Clarence JEFFERY (b.25/9/1917-d.20/5/1992) and Emma Lillian JEFFERY (b.21/2/1921-d.7/10/1979).
Mum also had two children out of wedlock - a 'stillborn' when she was around sixteen resulting from a rape and a daughter, Miriam Rose JEFFERY, by my father on July 15th, 1944.
I was never informed about my sister and only found out when I received a phone call from her eldest son, Brett while setting up the gear for a gig at Gearins on June 29th, 1991. By that time she was known as Nola HOLLOWOOD and lived in Newport (Melbourne) VIC with her (then) husband, John and two youngest daughters Naomi and Samantha.
Nola was adopted out at birth, for whatever reason, and tracked us down after the rules were changed in the early nineteen-nineties so that adoptees could seek out their birth parents.
She died in a Melbourne hospital on January 1st, 2000. She'd had cancer for at least two to three years at the time. I must say, it was great to find a sister after so many years. Sad to lose her so soon after!

---
When I was born my parents were living at a boarding house in Calliope Street, Guildford owned by a family named Bickley whom I don't remember a whole lot about. However, the house was right next door to the home of my Uncle Charley & Aunty Maudie CLUFF. Maudie was the younger sister of dad's mother Alma May FITZSIMMONS (later RODGERS). Maudie had been Maude RODGERS prior to marriage to Charley. Her father, Thomas Luke RODGERS had married Mary Ann FITZSIMMONS shortly after the birth of Alma May in late 1883 and it is debateable as to whether he is also the father of Alma May, or not.
Dad DID like a drink (or two) and, for that reason, I spent a considerable part of my earliest years being dragged off to mum's parent's home in Wellington NSW. And an even more considerable part of it being guarded by 'TARZAN', my maternal grandmother's dog whom I remained close to for the rest of his life. There were times that bloody old dog wouldn't even let my mother near the pram!
Eventually we moved from Bickley's and moved in with mum's sister, Beryl MORGAN and her husband, Bert at the Grove in Fairfield and were there for a good couple of years before getting a place of our own, if it could be called that, at the Merryland's Housing Settlement. Dad's mother moved in with us at this time!
The Housing Settlement was a set of disused army huts situated in the middle of what is now Granville Park on Woodville Road between both Granville and Merrylands in Sydney's West.
Apparently, I used to spend most of my days sitting on a bed staring out the window which led a couple of our neighbours to believe that I was either demented or crippled. Well, I definitely wasn't crippled! I made a few very good friends during that time that have drifted into memory with the years.
In either 1955, or 1956 we finally got a three bedroom house through the Housing Commission. It was the second that we had been offered (the first had been at Dundas valley and had far too many stairs for my grandmother to climb) and was located at 33 Patterson Street, Rydalmere (later rezoned as part of Ermington) and stood on the corner of Dennis and Patterson Streets.
It was one of only about three or four in that part of the street at the time and stood opposite a huge open paddock.

---
---
- Most Recent Update: Tuesday, March 08, 2005 -